Risdon
The Risdon Mfg. Co.
Naugatuck, Connecticut (Usa)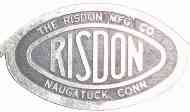 Produced in 1930, this movie camera is equipped with a lens Baush Lomb Ilex 1:3,5 25 mm.

It used a 16mm film with two reels.

The machine weights 1.450 Kg. and its measures are the following: 68x205x85 mm.

The housing is in black metal. This is the only one movie camera produced by Risdon. There is another model, produced by Ansco, the Ansco Risdon Model A.

My camera is perfect.

home

home