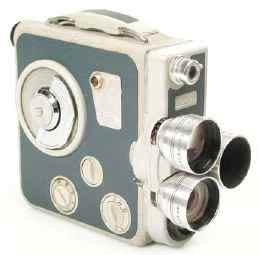 ..........
The Eumig C3M was introduced on the market in 1959. It is equipped with three lenses:

a Eumigon 1:1.8, 12,5mm

a Eumacro 2,5x

a Eumicron 0,5x

The movie camera has a grey metal housing, with inserts of blue skin. It weights kg. 1,250 its measure are the following: 44x121x170 mm.

Under the lens there is a lever for opening and closing the diaphragm from 1.9 to 16.

My movie camera is perfect.